Chard Eggplant Salad With Bulgarian Cheese
This is the perfect salad to accompany any mezzo platter! I created this recipe for the Spring 2017 issue of Sweet Paul Magazine.
Serves 4-6 as an appetizer
---
Ingredients
· 2 young eggplants or 1 large
· 1 red pepper
· olive oil
· 1 garlic clove
· juice of half a lemon
· 2 tablespoons chopped parsley
· 2 tablespoons chopped mint
· handfull kalamata olives pitted
· ¼ crumbled Bulgarian feta or Greek feta
· salt and pepper to taste
Directions
Rub the outside of eggplant and red pepper and place them on a medium high grill or on a sheet pan in a 450° oven. Grill or roast turning 2-3 times until skins are charred and the interiors are tender.
Remove eggplants to a colander or mesh strainer. Cut an x mark at the bottom with scissors and let drain. Place pepper in a small bowl and cover with cling film. Once eggplant and pepper are cool enough to handle, peel each and chop roughly.
Make a paste with salt and garlic clove by pressing with a side of chef knife on a cutting board.
Arrange chopped eggplant on a medium platter and season with lemon juice, pepper, and garlic salt paste, massage ingredients into eggplant with your fingers. Arrange red pepper over eggplant, then follow with olives, and cheese.
Drizzle a good amount of olive oil and finish with parsley and mint. Serve at room temperature with grilled pita.
Photography by Gieves Anderson, Food and Styling by Carlo Geraci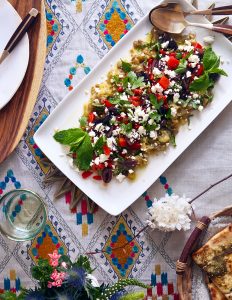 ---