Israeli Salad With Lentils
This is my take on all the flavors of Israel in one salad. Traditionally this salad always has peppers of all colors. I replaced with radishes and carrots for texture and color. I created this recipe for the Spring 2017 issue of Sweet Paul Magazine.
---
Ingredients
· 1 pint cherry or grape tomatoes sliced in half
· 1 English cucumber cut into small dice
· ½ medium red onion finely minced
· 1 carrot cut into small dice
· 4 radishes cut into small dice
· ¼ cup Italian parsley roughly chopped
· ¼ cup mint roughly chopped
· ¼ cup cilantro roughly chopped
· ¼ dill torn
· zest of one lemon
· Lemon juice to taste
· 4 Tablespoons olive oil
· Salt and pepper, to taste
· 2 teaspoons sumac
Directions
Rinse lentils well, drain. Place in a pot and cover with 3-4 inches of water, bring to a boil, reduce to simmer. Check lentils for doneness after 15 minutes, but they should take about 20 minutes in total. You will know they are cooked if they still retain a slight tooth – al dente! Do not over cook!
When the lentils are cooked, remove from heat, drain and place under cold running water to stop the cooking process. Once cooled, place lentils and all vegetables in a large bowl and toss to combine. Whisk olive oil, lemon zest, lemon juice, salt, pepper, and sumac, and pour over salad. Toss one or two more times and serve.
Photography by Gieves Anderson, Food and Styling by Carlo Geraci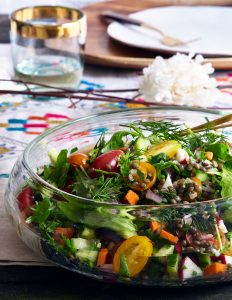 ---